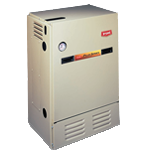 If your home has hot water radiators in each room for heat, you have a boiler to heat the water. Like a furnace, the energy efficiency of a boiler is given as the Annual Fuel Utilization Efficiency (AFUE). Boilers manufactured since 1992 must have an AFUE of at least 80%. We offer a complete line of gas and oil boilers starting at 80% AFUE and up.
Many homes use hot water and steam to heat their homes. Gas heating systems are reliable, durable and provide clean, dust free heat. Also hot water and steam boiler heating systems have a life span that is more than 20 or more years, providing they are properly maintained.
When it's time to replace an older boiler, more homeowners rely on air joe Heating, Cooling & Refrigeration. Our technicians are highly qualified to provide professional service, maintenance, repair and installation of most major brands of hot water and steam boilers.
They understand these complex heating systems and are proficient in the installation process. The piping from your boiler heating system plays a critical role in how long your system will last, comfort provided and how efficient they are. The systems distribution piping, if mot done correctly can have an negative effect and overwork the boiler. We don't just install a new boiler, at air joe custom design a system that meets your needs, budget and comfort experience.
Today's advanced boiler technology delivers greater efficiency and uses less energy to provide the perfect heat source for your home or business. We sell and install Bryant, Dunkirk, Burnham, Laars, Weil McClain, Triangle Tube, Lochinvar and Pennco boilers, the most reliable and innovative boilers in the industry so you can enjoy consistent warmth without the noise and drafts of forced air heating systems.
Professionals in Superior Service not your average "Joe"