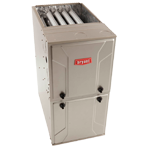 Today's new high efficiency furnaces can save up to 50% in operating costs over a ten-year-old furnace. Many 1990 and earlier model furnaces have Annual Fuel Utilization Efficiency (AFUE) ratings of 65% or less. The minimum AFUE rated furnace that can be sold in the United States today is 80%.
Our current product offering starts at 80% AFUE and goes all the way to a very efficient 96.6% AFUE rating. Depending on your average usage, higher AFUE rated furnaces can significantly reduce your gas bill.
We offer many furnaces with variable and multi-speed features that can provide enhanced indoor comfort by slowly ramping up to your thermostat setting rather than simply turning on at full speed. This alleviates the "cold air blow" often associated with single speed furnaces, and dramatically reduces system noise.
YOUR HOME DESERVES A HIGHER STANDARD OF COMFORT
A higher standard of comfort in your home begins with a higher standard of efficiency from one of our Bryant gas furnaces. That's because the pursuit of your perfect home environment , along with energy efficiency, goes into every furnace we install, from the ultra quiet motor to the smallest screw. Weather it's our ultimate Evolution Series product line we proudly install or our hard working and efficient Preferred Series, or the reliable comfort from our Legacy Series, Every Bryant gas furnace we install is built with a higher standard of comfort in mind for you and your family.
Believe it or not, two thirds of the energy you use goes towards heating and cooling. Fortunately, our efficient Bryant Heating & Air Conditioning gas furnaces could have a significant impact on your energy consumption, while also helping to lower your carbon footprint.
Reliability, Through and Through
Every gas furnace we install includes an array of innovative features carefully constructed to not only create a comfortable environment in your home, but also give you the utmost in energy efficiency and durability. It's an approach we stake our reputation on. And an approach your family can enjoy for years to come.
Designed For Comfort, Built to Last
Families have trusted air joe for years installing Bryant Heating & Air Conditioning to keep their homes comfortable. Today, our home comfort systems we install continue to push the boundaries of efficiency and performance, while still delivering on the proud history of quality, durability and substantial value. Welcome your family home to a higher standard of comfort from our Bryant Heating & Air Conditioning products.
Professionals in Superior Service not your average "Joe".