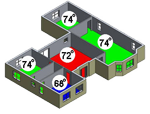 One room too hot while another is too cold? Not with our zoned comfort control systems!
Zoning can provide optimum comfort with increased energy savings in your home by dividing a home into areas with similar heating and cooling needs and independently controlling the temperature in each area. Much like multiple light switches that independently control lighting in different rooms, with zoning, multiple zone thermostats or sensors control temperature in different areas of the home.
The only place where the temperature matches the thermostat is at the thermostat.
Different areas of your house have different temperature needs as do individual family members. What may be cool to one member may be warm to another. Heat rises up, leaving the main floor cool and second floor bedrooms hot. Cool air settles into the basement. Windows to the south soak up the sun making certain rooms uncomfortably hot, while northernly winds may make some rooms feel to cool.
Add some of today's most desired home design features, and the problem gets worse. Large glass expanses, vaulted or cathedral ceilings, finished basements, solariums. lofts – they all can cause temperatures to vary dramatically from one part of a house to the next. Expecting one thermostat in a single room to control temperature variations throughout your home is asking the impossible.
Our Zoned Comfort Control Systems increases comfort by controlling specific temperature needs in designated areas of your home – making you and your family more comfortable while saving money by using less energy for your heating and air conditioning needs.
What is Zoned Comfort Control?
Zoned Comfort Control is a system of more than one thermostat, electrically connected to a control panel which operates a number of dampers in your forced air heating and air conditioning system. Conditioned air is then distributed to various parts of your home as needed. The system can be installed in new or existing homes helping you achieve total indoor comfort.
Contact us for an in-home evaluation and estimate.